SPECS
µSIRIUS
µSIRIUS Small Spot
Next generation UV source with high intensity and small spot size down to 100 µm.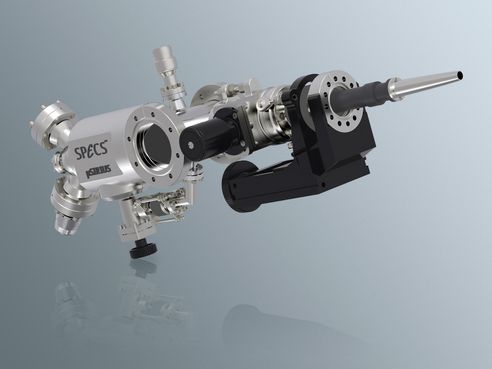 The µSIRIUS is a new generation of duo-plasmatron based discharge light sources. Its body fully manufactured by additive manufacturing increases the stability and performance compared to the existing UV light sources. The imprinted water cooling reduces the dimensions of the source and allows us to improve the anode geometry. The photon flux density can be increased by an order of magnitude compared to the existing solutions. A new type of filament comes with a significatnly increased life time of > 5000 hours.
The µFOCAL capillary is a true focusing capillary. Due to the duo-plasmatron principle, the UV source generates a tiny emission spot, which can be focused on the surface without any artificial apertures. The new capillary design reduces the spot size down to 100 µm with no loss in the photon flux. Hence the flux density on the sample surface can be increased by one order of magnitude.