SPECS
Mimea base package BP5e
The Mimea base package BP5e is the latest evolution of the Nanonis SPM control system. It combines exceptional signal quality, high speed and a flexible, powerful and user-friendly software interface. The enhanced BP5e builds on the exceptional performance and signal quality of the BP5 and offers higher speed and more functionality and flexibility.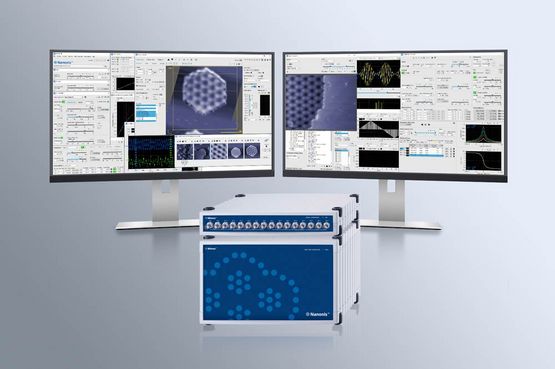 The BP5e base package provides all the functions for fundamental SPM applications, in particular STM and contact mode AFM. From signal conditioning and AD/DA conversion to FPGA and real-time signal processing and graphical user-interface, the BP5e provides a complete framework that can be adapted and extended with a wide range of add-on modules.
All basic processes such as scan control, spectroscopy, Z-control, fast data acquisition, data monitoring and logging, spectroscopy, atomic manipulation and lithography are included, allowing easy control of most STM and AFM operations. The software provides measurement methods and complete signal processing combined with a modern and easy to use graphical interface, offering all necessary functionalities and an efficient workflow for demanding SPM experiments.
The BP5e can perform scanning and spectroscopy measurements up to 50x faster than with the previous generation. Up to 1,000,000 pixels per second can be generated and directly streamed to disk for up to 8 channels. This makes it possible to acquire extremely highly resolved topography or spectroscopy maps in a significantly shorter time.
With a 64-bit software where memory is no longer a limitation, the only barrier is given by disk space. Spectroscopy is not limited to specific output signals thereby making electrical transport measurements, as an example, much faster and easier to perform. Even time can be a spectroscopy channel, allowing continuous acquisition of raw data at ADC sampling rates.
More details about the BP5e can be found below, on the Mimea main page or in the Brochure (download link at the bottom of this page)