SPECS
FOCUS 500/600
FOCUS 500/600
High Performance Monochromatic X-Ray Source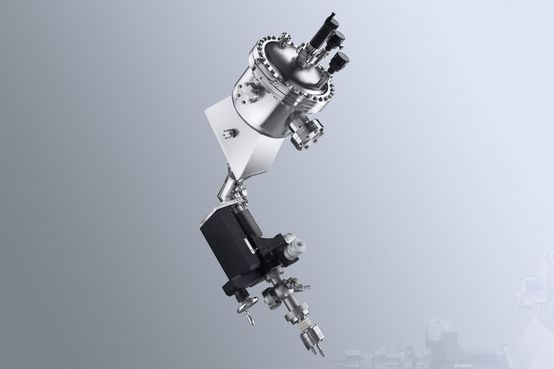 The X-ray monochromator FOCUS 500/600 operates according to Bragg´s Law of X-ray diffraction. A single wavelength of X-rays is reflected from a quartz single crystal mirror at a specific angle of reflection. High X-ray energy dispersion is achieved utilizing the mirror with a 500 mm Rowland circle diameter for FOCUS 500, and 600 mm diameter for FOCUS 600 model, respectively. Hence, the port length for FOCUS 500 is 177 mm, while for FOCUS 600 model is 254 mm. The large surface area of the quartz crystals leads to an intense X-ray flux from the monochromator for high efficiency XPS measurements. A moveable aluminized polymer window (shutter) is provided on the monochromator housing for differential pumping or to shield the crystal assembly during sputtering.
The FOCUS 500/600 monchromator is equipped with the dual anode, high performance X-ray source XR 50 M which is specially designed for the use with the monochromator. The twin anode (Al/Ag) allows a changeover from a monochromatic Al Kα to Ag Kα excitation energy with only minor adjustments and without breaking the vacuum. Thus, the FOCUS 500/600 monochromator togeher with the XR 50 M X-ray source is perfectly suited for high resolution and high intensity XPS measurements.
The monochromator can be also used to perform Bremsstrahlung Isochromat Spectroscopy (BIS) with a retrofittable attachment to the standard equipment.